In a word, "no." Plenty of us are feeling down about social media, especially Facebook. They've been getting a lot of bad press. Of course, the companies generating bad coverage of Facebook are competing with Facebook for your advertising dollars. So let's grab a grain of salt and look at the numbers.
Seven of Ten Americans Use Facebook in 2019

In 2017 and 2018, 42% of Facebook users report taking a break from the website. However, this self-reported behavior doesn't seem to have affected the top-line numbers much. Facebook's rapid growth started leveling off in 2016, but it has not fallen. In fact, Facebook continues to grow. In the Pew Research Center's February 2019 survey, 69% of American adults now use Facebook. More than ever before, and more than double the next closest social media: Pinterest.
Facebook's Audience is Older and More Affluent

When you consider that the Facebook advertising platform runs ads simultaneously on Facebook and Instagram, Facebook's reach runs virtually neck in neck with YouTube. But for healthcare businesses, Facebook is much better. Facebook does not require video production for great ads, which keeps overhead down. Facebook naturally has an older audience, and Facebook is the ONLY advertising medium that lets advertisers segment their ads by the audience's age. In other words, produce an expensive video for YouTube, and all the youngsters will see it. Design an inexpensive ad on Facebook, and your settings can ensure that your ad dollars will only go toward the age group you specify.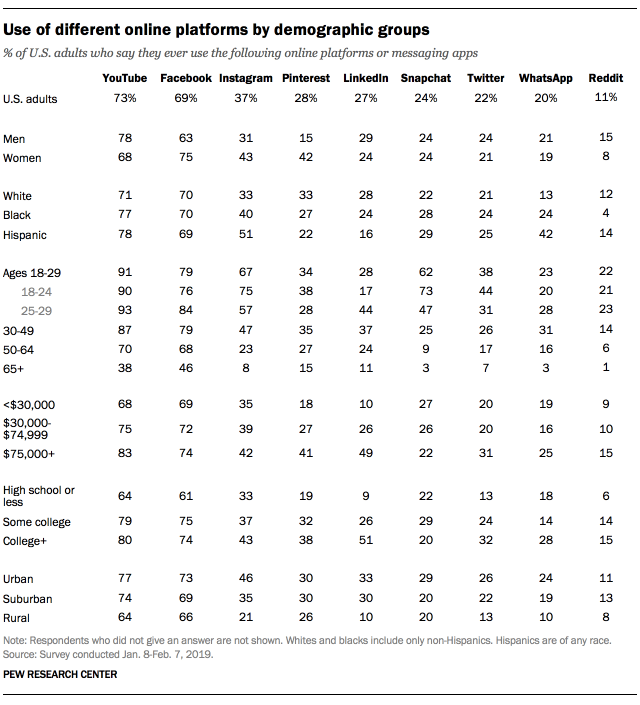 Facebook Has the Most Engaged Audience

What's more, 74% of Facebook members use the site or app daily if not more often. The next best social media for engagement is Instagram, with 63% of their members using it daily. Again, Facebook ads automatically run on Instagram. No other social media has such an engaged audience.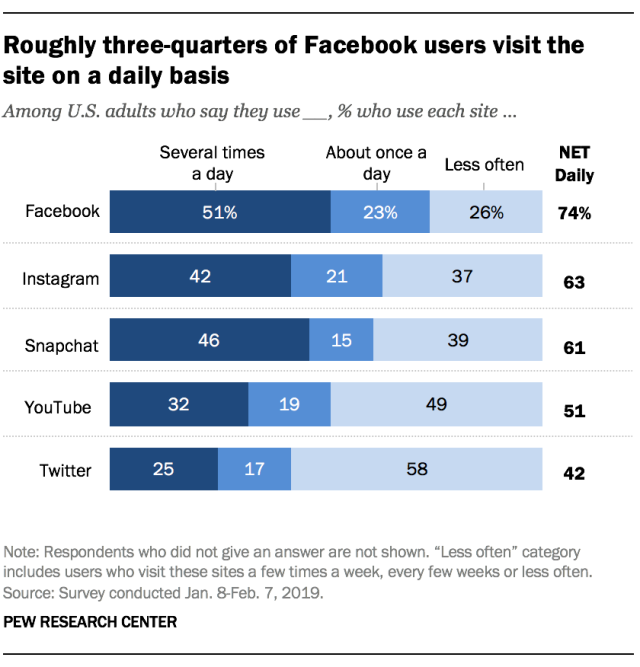 Facebook Offers Industry-Best Targeting and Pricing

Compared to other push advertising media such as radio, TV, YouTube, cable, and newspaper, Facebook wins hands-down. With Brazzell's Facebook Target Marketing, most clients are paying two cents per ad view – all inclusive. This is a much lower cost per impression than other push advertising media are offering. With reports on ad views and click rates, Facebook offers metrics like only internet advertising can. The highly granular reporting also enables your marketing agency to do advanced analysis and refine both online and offline advertising strategies.
Perhaps most importantly, Facebook offers the best audience targeting options available in push advertising. Only Facebook lets advertisers define their audience by age. Brazzell Marketing Agency can also use Facebook to advertise only to the right types of doctors and their staff, which is very helpful for home health agencies, hospice agencies, and physical therapy practices seeking to improve their engagement with referral sources. For non-medical home care agencies, Brazzell Marketing Agency can use Facebook to target the most affluent zip codes or neighborhoods and promote private-duty or to target likely Medicaid beneficiaries and promote waiver services. For veterinarians, Brazzell Marketing Agency can target just dog and cat lovers through Facebook's psychographic targeting capabilities. The possibilities are limitless.
In conclusion, whatever woes Facebook has encountered since 2016, they remain one of the most important and useful advertising media in the U.S. To learn more about how your business can utilize social media advertising, call 866-272-3799 or send us a message, now.